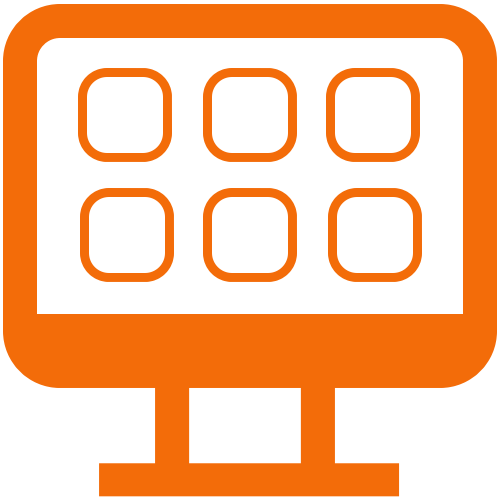 Een online werkplek is alleen compleet als alle benodigde applicaties op eenvoudige wijze beschikbaar zijn voor de juiste medewerkers. CoDesk host meer dan 300 applicaties in haar CoDesktop en online.
Alle Microsoft producten zijn op maandbasis, inclusief licenties, af te nemen via CoDesk.
Voor alle andere applicaties hebben we alleen jouw licentiegegevens nodig. CoDesk zorgt voor de rest. 
Daarbij maken we het leven  voor applicatiebeheerder / leveranciers ook een stuk aangenamer.
Een duidelijke aanpak
Je eigen applicaties laten hosten is eenvoudig:
je levert de licentie en het functionele applicatiebeheer
wij doen het R&D voor de installatie
wij zorgen voor de benodigde resources
wij doen het technische onderhoud (in samenspraak met jouw applicatieleverancier)
we rekenen af per applicatie per user per maand 
Jij hebt en houdt de controle over de toegang
Er zijn geen onderzoek- of set-upkosten, dus geen risico's
Uw applicaties, onze zorg
Hieronder vind je een greep uit de 300+ applicaties die wij reeds hosten voor onze klanten. Met onze aanpak zetten we jouw applicaties ook snel en makkelijk online. Zonder set-upkosten en zonder risico; je gaat pas betalen als je daadwerkelijk aan de slag kan.
Ook voor legacy applicaties hebben wij een fix!
TIP:  gebruik CRTL + F om snel te zoeken of uw applicatie al bekend is bij ons!
Microsoft Office software
Office 365
Word 2013 / 2016 / 2019
PowerPoint 2013 / 2016 / 2019
Excel 2013 / 2016 / 2019
Outlook 2013 / 2016 / 2019
OneNote 2013 / 2016 / 2019
Access 2013 / 2016 / 2019
Publisher 2013 / 2016 / 2019
Power BI (Pro)
SharePoint
Teams
Skype for Business
OneDrive for Business
MSQuery
Visual Studio Pro
Office alternatieven
Apache

 

Open Office
Libre Office
FreeOffice
NextCloud files
Webbrowsers
Internet Explorer
FireFox
Chrome
Chromium
Edge
Financiële software
Unit4 (Audition, Multiverse, Financial DataSuite)
Exact
AccountView
King (inc. King Mobile en TaskCenter)
Snelstart
Primaccount
Loon 201x (RoosRoos)
Elsa (Easylon
Infine
Tecknow Tax
Speedbooks
CBS Iris
MUIS
WinSalar
D-basics
FlexService
Exerendt
CaseWare
AFAS
FineAid
MiniPak
Easyfisk (BE)
Minox
PBCL
Microloon
ERP / CRM software
RADAR CRM
SalesForce
Navision
PSO (o.b.v. Microsoft Dynamics)
PSA (o.b.v. Microsoft Dynamics)
MSF (o.b.v. Microsoft Dynamics)
Trinicom
SuperOffice
ClientWise
SDU Legal Eagle
PerfectView
CRMconnect
TimeTell
Yeti CRM
ESPO CRM
Business Intelligence software
MicroStrategy
QlicView
TimeXtender
Tableau
PowerBI
Dbeaver
Qlik
SQLserver Report Builder
Service Management software
Proces Management software
Medische software
Intramed
FysioRoadMap
FysioLogic
Health Software
SpotOnMedics
MicroHis
Technische software
Winner Design
Syntess Atrium
Bink
Vabi
Geberit Pluvia
AutoDesk
Logistieke software
KING
GreenExpress
DeliSprint DPD
APF ordersystem
BLMS Planning (BISIT)
PDF software
CutePDF
Broadgun
Zetadocs
Adobe
Foxit Reader
SumatraPDF
Phantom PDF
Databases / DBMS
Microsoft SQLserver
MySQL
MariaDB
Firebird
Pervasive
FoxPro
Borland
InFlux
Add on's / overige software
Elvy
Scansys
Harmon.ie
Yammer (client)
Dymo Label software
JetReports
PuTTY
Notepad ++
UltraEdit
Paint.NET
7zip
FileZilla
SnagIT
VLTB Calculator
WhereScape
Informant
Div. bankapplicaties
Div. printerapplicaties
Div. FTP-clients
Welke applicatie mis je?
Wij laten je kostenloos zien hoe jouw applicatie bij ons werkt